Exhibition Alambic Hall—Cournon d'Auvergne (France)
This article appeared on "La Montagne", the main newspaper in Clermont-Ferrand area, on the 9th February, 2015.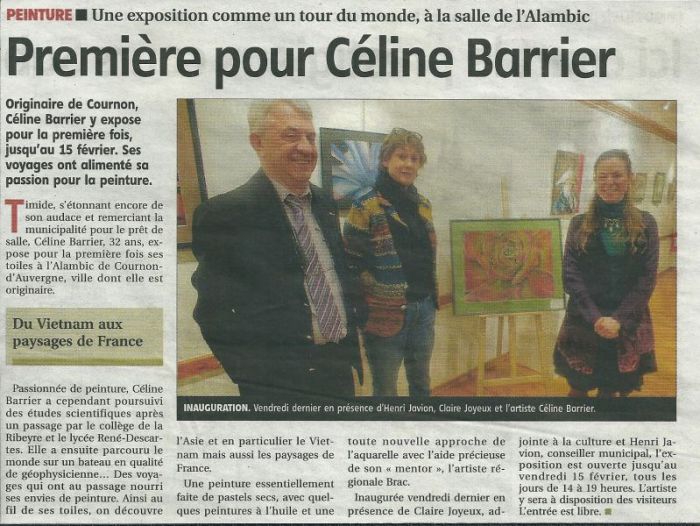 ---
A "Tour Around the World" exhibition

"Première" for Céline Barrier.

---

Cournon native Céline Barrier's first exhibition runs until the 15th of February.

Her travels have fueled her passion for painting. Still astounded about overcoming her shyness, Céline Barrier, 32, holds her first public exhibition at the "Salle de l'Alambic" in Cournon d'Auvergne, the town she originally hails from.
From Vietnam to French Landscapes.

Albeit passionate about painting from an early age, Ms Barrier decided to pursue a technical career after graduating from school. Thereafter, she travelled around the world on a vessel doing geophysical research.

Her œuvre consists essentially of dry pastels, along with some oil painting and a novel approach to watercolors, with the mentoring of Brac, a regional artist.

Unveiled last Friday in the presence of cultural affairs delegate Claire Joyeux and concillor Henri Javion, the exhibition is open daily from 16:00 to 19:00 hours until the 15th of February. The artist will be present to discuss her work. Admission is free.
---
Alambic Hall (Salle de l'Alambic)
Place Joseph Gardet, 63 800 Cournon d'Auvergne, France
From 7th until 15th February 2015
Monday to Friday : 14h / 19h
Saturday & Sunday : 9h / 17h